This time of year is pretty great. We're all well and truly over the dark nights and drizzly mornings, and counting down the days until the sunshine comes back around.
Hands in the air if you're already daydreaming about picnics in the park, drippy Solero lollies and inflatable assault courses in the swimming pool? Yep, same here.
There's only one teeny tiny problem… British weather. It's not exactly the most reliable thing in the world, meaning that while you're rocking a pair of denim shorts and tucking into a burnt BBQ hot dog one minute, you're looking like a drowned rat the next.
So obviously you'll need to sort yourself out with the perfect spring jacket asap, to see you through those days when it's not quite chucking it down but it's not exactly sunny, either.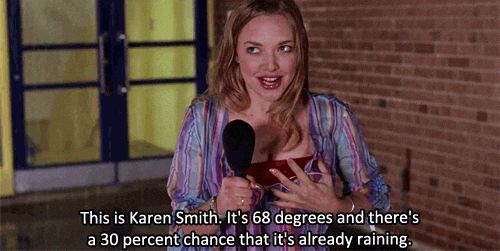 1. A lightweight parka to keep the cold out but still look cute af.
ASOS PETITE Lightweight Parka, £35.00
2. This pale pink raincoat, which is straight out of a Disney Princess casual wardrobe.
Pull & Bear Hooded Raincoat, £29.99
3. The grey blazer, aka the must-have item right now for any fashion blogger's OOTDs.
New Look Light Grey Check Blazer, £29.99
4. For days when you basically want to be one big, walking teddy bear.
Missguided Teddy Tan Faux Shearling Coat, £22.50
5. Pretty sure this jacket would be the 2018 glow up for Grease's Pink Ladies.
SkinnyDip The Love Club Bomber Jacket, £55.00
6. An 80s inspired oversized denim jacket, complete with embroidered deets.
Liquor N Poker Girlfriend Fit Jacket with Embroidered Hem Detail, £45.00
7. Y'know Sully from Monsters Inc? Totally our style inspo for the next few months.
Bershka Short Faux Fur Coat, £49.99
8. Even unicorns need to stay dry in the rain y'know.
ASOS Co-ord Pastel Spray Paint Rain Jacket with Bum Bag, £25.00
9. The current cool girl uniform (a puffer jacket) in a killer shade of vibrant purple.
Pull & Bear Quilted jacket with funnel collar, £29.99
10. Or, if you're more of a pastel pink kinda gal, there's one for you too.
Miss Selfridge Pink Lightweight Puffer Jacket, £35.00
11. When it's constant grey clouds outside, it's up to you to bring the sunshine in bright yellow.
Missguided Yellow Faux Leather Biker Jacket, £21.00
12. Anyone obsessed with Stranger Things style will swoon hard for a cord and sheepskin jacket.
ASOS Cord Jacket With Borg Collar in Lilac, £48.00
13. Keep it classic with an easy, breezy trench coat.
Bershka Lightweight Trench Coat, £49.99
14. The one and only classic biker jacket that you'll be relying on for actual years. Seriously, they go with EVERYTHING.
Primark Classic Biker Jacket, £25.00
15. And can we all just take a moment for this seriously amazing shade of green? Yep, we're gonna need one of each pls.
ASOS Parka with Belt Detail, £65.00
It's time you started celebrating your period, guys. Sign up to bettybox RN and get all your tampons and pads, beauty products, sweet treats and loads more cool stuff delivered to your door, every single month. We know. It's totally awesome.