Whether you're all about a subtle touch of shimmer or prefer to turn yourself into a human disco ball, summer is the perfect excuse to get glittery. When the sun comes out it's time to ditch the matte look and channel every single mermaid and unicorn out there to cover your life in sparkle.
Looking for some inspo to take your glitter look to the next level? Perfect for hitting your first music festival, a party with your pals or just sitting in your pyjamas and eating snacks while being the sparkly princess that you are, these are 10 amazing ways to style up your summer glitter.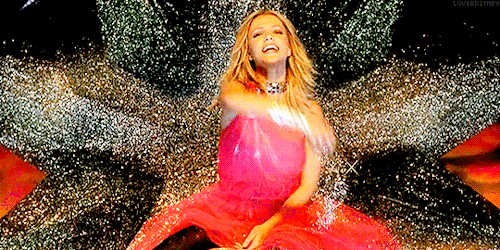 1. Glitter Parting
Don't think that glitter has to just stay in your make up look. A cute, quirky hairstyle plus a healthy injection of pastel glitter is pretty much the perfect combo. For the ultimate festival vibes, try sprinkling a load of sparkle onto your roots, teamed with a half up-do or girly space buns. Not only does it look awesome, but it also means no one will notice that you haven't washed your hair. Goals.
2. Around The Eyes
Maybe the most classic of the whole bunch, any festival expert knows that the first place to add a 'lil bit of lustre to your beauty look is your eyes. Using eyelash glue, Vaseline or hair gel, you can add a glittery halo to your eyebrow bone and down to your cheekbones. Who needs highlighter when you can use actual sparkle instead?
3. Glitter Freckles
Um, have you ever heard of anything cuter than glitter freckles? A little bit less dramatic but definitely no less awesome, adding a dusting of glitz across the bridge of your nose basically turns your beautiful face into its very own sparkly galaxy. Like normal freckles weren't lovely enough all by themselves, this beauty trend takes things to the next level of adorable.
4. Cover Up Your Tiredness
Too many nights spent staying up binge-watching YouTube and refusing to put down your favourite book? Yep, same – but put down that concealer and turn to your sparkly saviour instead. Why bother using regular make up to hide your tired eyes when you could highlight, illuminate and brighten to the max instead. An awesome take on festival make up, we're seriously obsessed with this look.
5. Glitter Lips
Okay, so this one maybe won't work too well if you're passionate about snacking. Pizza and glitter aren't a great combo, but when you're heading out to a party for a couple of hours, glitter lips are a ridiculously cool idea. Apply your favourite cream lipstick formula and use your finger to press the glitter into place. Alternatively, you could just add a teeny tiny touch of sparkle to your cupids bow for a more subtle, pretty version.
6. Glitter Braids
Braids make the perfect summer hairstyle all by themselves, but glitter braids are totally a thing and we could not be happier about it. Simple plaits, fancy Pinterest styles or fishtail braids all look mega with an extra sprinkle of sparkle, but the best part is that they sometimes look even better when they're a little messy – a result for those of us who are a bit cack-handed with hair.
7. Mermaid gems
Ready to crank your summer glitter up to the next level? Say hello to glitter's older, edgier sister – mermaid gems. Usually sold together in a rainbow of your favourite pastel shades, add them along your brow bone, across your forehead, against your cheeks and even down onto your collar bones for a final look that even Ariel would be jealous of. Trust us, there's no such thing as OTT with these.
8. Glitter collar bones
Oh we feel ya. You've spent hours getting that make up look perfect, you've washed and dried your hair which is basically a workout in itself, and you just don't wanna risk messing up the final result with a load of glitter. That doesn't mean you have to miss out, though. Rock a strapless Bardot top and take the shine down onto your collar bones and shoulders instead. Even a super-metallic highlighter on its own looks awesome like this. We LOVE.
9. Glitter liner
Mastered the art of the cat flick? Okay, you're doing better than us, but why stick to boring old black when you could swap it for something gorgeous, glittery and eye-catching? If you're super-patient, try using teeny tiny pieces of (eye safe) glitter to build the line on your lid or below your lashes. If you're like us and want the easy option, glitter eyeliner is about to become your new best friend. It looks SO GOOD.
10. Glitter eyeshadow
And last but not least, you definitely can't go wrong with some glitter eyeshadow. If you're after some beauty tips, wet your brush before you pack on the product to make sure it packs a punch, and do your eyes first so that you can wipe away any fallout. Don't worry too much though – a little bit of extra sparkle falling down onto your cheekbones could be a pretty cute final result.
It's time you started celebrating your period, guys. Sign up to bettybox RN and get all your tampons and pads, beauty products, sweet treats and loads more cool stuff delivered to your door, every single month. We know. It's totally awesome.