Having a spa day at home is one of our favourite ways to chill at the weekend. They're cheap and easy and they make you feel like you're going to a swanky awards show after, even if the closest you're getting to an awards show is sitting on the sofa with a bucket of popcorn watching Moonlight. They're also the ideal excuse for doing what you really want to do on a Sunday: not get dressed all day. Memorise it now: "I'm not lazy, mum, I'm actually in the middle of a spa day."
You can have a spa day solo, or invite some of your BFFs over and go full on 'Legally Blonde sorority house' with it. But either way, here are the key ingredients.
What's the best spa music?
Getting the music right is key. Have you ever heard of a spa playing T Swift? No, because T Swift is for dancing and soothing a broken heart. Spa music is bland and yet, it serves a much-needed purpose – like rice, or school shoes. Try this playlist for some relaxing tunes that won't bore you so much your spa day at home becomes a nap day at home.
How to have the perfect bath
This one only really works if you're spa-ing solo, because let's face it, there's nothing relaxing about all your mates to be nipping into the shower one after the other like a weirdly hygienic assembly line.
If you're by yourself, have a bubble bath. It will make you feel like a QUEEN. But if you don't have a bath, a shower will work too – just remember to light yourself a mood-setting candle or two. Take the time to wash your hair slowly and luxuriously, rather than the usual mad rush you have before school. If you're a shaver of legs, you may as well do that too. Pick up a pair of exfoliating gloves and scrub your skin in gentle circles to leave it glowing like the dawn.
A spa day dressing gown is essential
If you have a lovely robe or dressing gown, grab that. If not, steal your mum's, your sister's or go find the fluffiest towel you have. The one your parents keep 'for guests' even if you never have guests. Wrap yourself in it. If you're chilly, pop on slippers. Nothing says 'I'm a lady who spas' like towelling and slippers.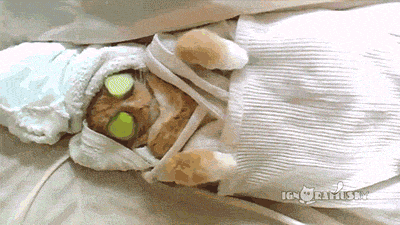 Make sure you moisturise your whole body
There are some people who manage to do this most days, but I assume they are also the kind of people who have colour-coded folders for everything on their laptops and know all the words to Kendrick Lamar's songs. You want to get into all the weird places you normally ignore; your ankles, your tummy, the parts of your back you can reach without dislocating your shoulder.
The best face masks?
No spa day would be complete with a face mask. If you want to make one using ingredients you probably have lying around in your fridge, adelightfuldilemma is the gal for you. Obviously, cucumber on your eyes is compulsory. But we say turn this day into your best spa experience ever and use the Oh K! Snail Sheet Mask from this month's bettybox! September subscribers will get their lucky (exfoliated) mitts on the hydrating mix of ingredients, including – wait for it – snail slime! They're super-moisturising and great for making your skin glow.
How to do a pedicure at home
There's a huge difference between boring old painting your nails and a glam spa day pedicure. You need to upgrade your usual one coat and go: we're thinking cotton wool between the toes, a base coat, two glossy nail polish coats, a top coat, maybe even some nail art! If you're game, why not give yourself a mani too. Match your fingers and toes or go crazy and create a new design for each nail!
Now slip on your best ball gown (or your cleanest pyjamas) and spend the rest of the evening demanding that people tell you how good you smell. Or for the full spa day effect, have a huge cream tea afterwards.
It's time you started celebrating your period, guys. Sign up to bettybox RN and get all your tampons and pads, beauty products, sweet treats and loads more cool stuff delivered to your door, every single month. We know. It's totally awesome.