Money talks, and whoever came up with the phrase "the best things in life are free" clearly hasn't scrolled the ASOS sale in a frenzied state, or experienced pure, unadulterated joy when filling a Primark shopping basket (or two) to the brim.
How much dosh you have in your pocket can be the difference between having an awesome weekend and lying on your bed, bored AF. That's the harsh reality, right? So if the only thing stopping you living the life you want is your bank balance, there are way worse problems to have. Trust us. This one is *totally* in your control.
With a few clever cash hacks, and an overhaul of your dodgy spending habits, you can start to make some money RN, and look forward to a loaded future. Just don't forget to invite us on your yacht, yeh?
(Btw. Without wanting to do a total 180 on the above, some of the best things in life are actually free, so getting too obsessed with all things cash isn't cool. Don't be *that* person.)
Earn it!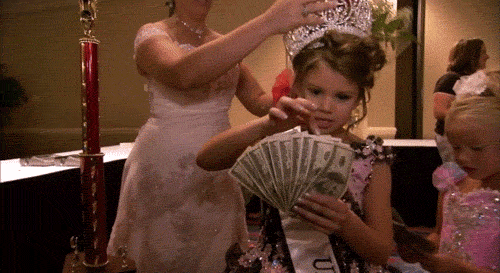 Life lesson No.1 (and it's a toughie) is that the world doesn't owe you anything so the only way you're going to get rich is if you get off your butt and make it happen. Look at the Kardashian sisters. Say what you like about them, but. beyond their walk-in wardrobes, private jets and endless shelves of beauty buys, those girls graft and graft and graft. So if you want more wonga, you've got to earn it. Simple.
Get a job
Obvs. But how? Well, 13 and 14 year olds are legally allowed to work as long as it's for a maximum of 2 hours on school days and Sundays, or for no longer than 5 hours on a Saturday (plus a break) – there are different rules for the school holidays and if you're 15 or 16, you can do slightly more hours. Ask around in your local shops, cafés or hairdressers and don't be discouraged if you get knocked back at first. By making yourself a positive pest and proving that you'll work hard, someone will give you a break.
Lift a finger
Now we're not saying you should get paid every time you tidy your room or put a plate away (you probs get a bit of pocket money in return for chores anyway) but there's bound to be other random jobs around the house that your parents will gladly pay you extra to do. Spot something that needs doing/sorting/fixing and quote your price for getting it done. It's all about switching your mind into entrepreneur mode. Now go hustle.
Sell your stuff
If you haven't discovered Depop and eBay as a valid way to bring in some £££, where the heck have you been? And if you think no one will want to buy your much-loved trainers or well-worn tops, you're so wrong – one girl's trash is another girl's treasure. Just remember to take good photographs when selling your stuff. It's all about the pics.
Watch the kids
At first, you might be most comfortable babysitting for family, or friends of the fam (a stranger's sprog is a lot of responsibility after all), but here's a job that is essentially being paid to watch CBBC. If the little ones love you and you can be trusted (which means *actually* watching the kids and not scrolling Instagram), it could be a regular gig, which means regular dosh.
Get creative
Are you a makey-makey/craft kinda girl? Then why not earn some money for your creative endeavours? For inspo, have a scour of Etsy to see the things that sell like hot-cakes – this can be anything from crochet bandeau tops (you might need to get your nan on board to help with these) to slogan tees. If you've got a stylish eye for photographs you could be getting cash for your dreamy sunsets shots too. On photo market places like picfair.com, you can upload your cool pics, pick the price you want to sell them for, and then sit back and wait for the dollar to roll in. All without moving from your bedroom.
Save it!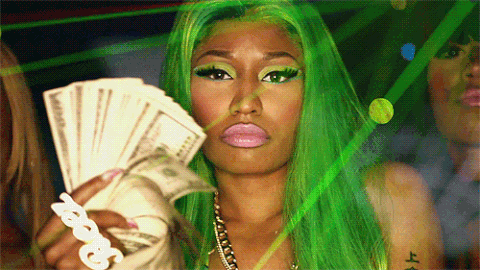 OK, we know it's sooo tempting to spend every single penny the same day you get it (and then have to call your mum for a lift because you can't afford the bus journey home, oops), but if you want to build a stash of cash, you have to have a solid saving strategy. Think of it as building your empire.
Plan your pennies
Sounds boring, but budgeting is so the way to go if you want to make your pocket money last longer than a few hours. Once you get the hang of it too, controlling your cash can feel strangely and satisfyingly addictive. Pin down where your pounds get spent by keeping a money diary for a month. Write down exactly what you buy every day and then work out what's essential spending and what's just silly squandering (then cut back on those splurges). That 99p cheeseburger might seem like a total bargain, but gobble a few in a week and it all adds up.
Cash is king
If you've got a bank account already, it's likely that you've got a debit card too. And it's likely that you'll find it much easier to whip that out in a shop than using actual coins and notes. But hands-up if you lose track of what you're spending this way, and then feel sad when you've drained your entire bank account? Booo. By using cash only, you can see in your hand what you've got left and you can also leave a bit at home if you don't trust yourself not to spend it all in one go (we hear ya).
Go with the flow
Does your money stop and start rather than flooooow? You totally need the flow. That means coins coming in at the same rate as they're going out. Get into the habit of having more money "in" than "out" by resisting buying something straight away if it's going to leave you with zero cash. Also the golden rule of money management = never borrow. Owing money sucks, so if you can't afford something now, wait 'til you can.
Save. Save. Save
Again, this sounds so yawn in principle. But consider the thrill of buying those £100 Nikes, because you cleverly saved your cash. Not so boring then, huh? Whenever you get money in your mitts try stashing a 1/3 of it away (or 1/2 if that's doable) so it becomes totally untouchable. This can be in a savings account or a hidden pot at home. Do this each time, forget that the money even exists and it will build quicker than you think.
Forget FOMO
Argh, FOMO is the fastest way to get skint so you need to develop skills to ignore it. Saying no to the cinema because you're saving for something else is sometimes the smart thing to do. Don't get washed along with your mates' plans without thinking if a) you can really afford it, or b) if that is how you really want to spend your cash. It's ok to say no. The world won't end.
Spend it!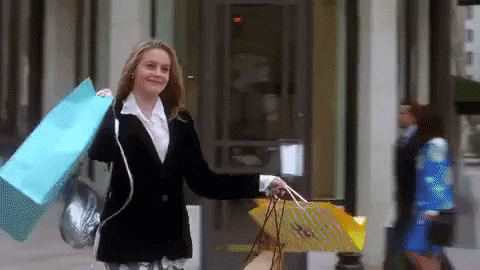 Oh, we're well aware of that strange, out-of-body-experience that can happen to us in a shopping centre. Y'know, when you're haemorrhaging cash to rival Kim and Kayne, but you JUST. CAN'T. STOP. Sound familiar? Yup, we get it. Shopping is addictive and buying things creates fuzzy feel-good vibes. That is until you get home and realise that you've massively overspent, nothing fits right and you didn't really need that top in all THREE colours. Urgh. If you recognise this crazy spend-a-holic in you, reign it in with these tips.
Head over heart
To avoid getting sucked into a spend-frenzy, pro-shoppers carefully plan what they need to buy before going online or near a shop. Ask yourself these three things before handing over your hard-earned cash. Do I really need it? (Like, really?) Can I afford it? Can I wait a bit longer for it? By stepping back and questioning every possible purchase, you're less likely to get lost in a buying bubble. We've all been there.
Become an offer queen
2-for-1, BOGOF, 3-for-the-price-of-2… Make these phrases your money mantras. Spending a few extra minutes looking online for a discount code, or signing up to a website's newsletter can also save you 10%, 15%, or 20% on a purchase. Hurrah. Make it a habit and you'll never pay full price again.
Get together for gifts
Shopping for your best mate? Anyone who's tried to buy the best gift EVER with just a fiver, knows it's a hard ask – you're looking at a Lush bath bomb and not much else. So get together with your other friends and buy joint. By pooling your pounds you can get one big pressie that she'll really love.
Be a pre-loved pro
Seen a top that you LOVE but it's 50 quid? Here's where Depop, eBay and vintage shops come in again – remember that trash/treasure theory? You don't need to have everything brand new after all, especially if you get bored of your things easily. Buying pre-loved clothes means they're loads cheaper, so you can actually buy more stuff with your money. Win, win.
Plan ahead
There's nothing like a few birthdays or that massive money drainer called CHRISTMAS (yay Christmas!) to wipe out your cash, so plan well in advance for buying pressies. Shopping for just one thing each weekend between now and 25th December, rather than buying *everything* on Christmas Eve, will make the whole thing way more fun and much less painful.
It's time you started celebrating your period, guys. Sign up to bettybox RN and get all your tampons and pads, beauty products, sweet treats and loads more cool stuff delivered to your door, every single month. We know. It's totally awesome. 
Image: Hailey Hamilton